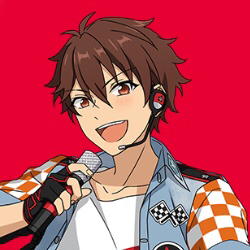 Chiaki
Are we ready, Ryuseitai?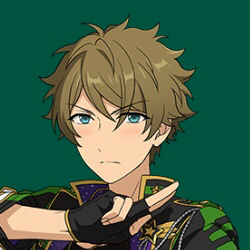 Midori
You're the one giving him the gift. We should be asking if you're ready, Morisawa-senpai.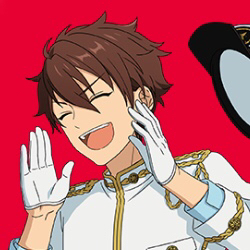 Chiaki
Fuahahaha~ You have a point there, Takamine... ☆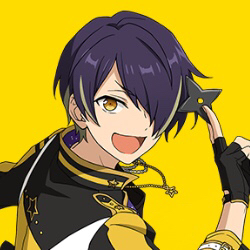 Shinobu
So even Taichou-dono has mundane thing he's nervous about! And it's not even Halloween, de gozaru!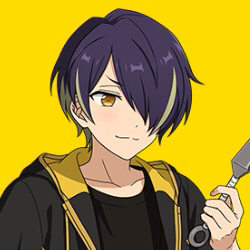 Shinobu
Do not worry Taichou-dono, if it's you, Shinkai-dono will accept this gift without second thought, de gozaru!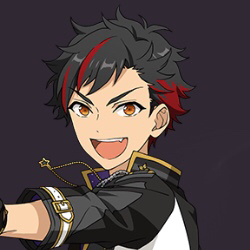 Tetora
That's the plan, at least. A gift made by RyuseitaiN and delivered by RyuseitaiM's leader to our last member. A way to show we're all connected.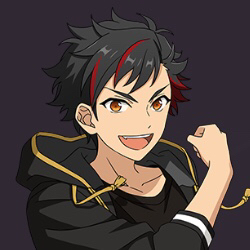 Tetora
Ossu! Pretty innovative, right? We have to show we really, really care about Shinkai-senpai!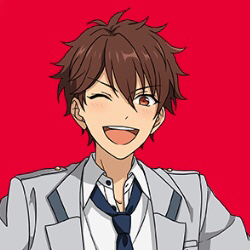 Chiaki
Nagumo, Sengoku, Takamine... your combined thoughtfulness is enough to make cry... ☆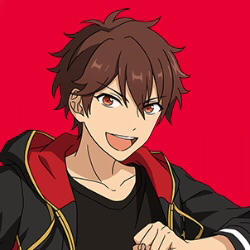 Chiaki
Alright! I'll deliver this right away! Kanata's in the pond again, leave it to Morisawa Chiaki to get him out! ...Or just leave him there, since that's what Kanata enjoys!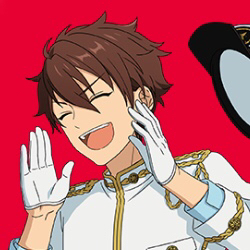 Chiaki
KANATAAAAAAAAAAAAAAAAAAAAAAAAAAAAAA!!!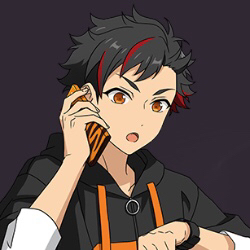 Tetora
We'll be standing over here- and, he's gone.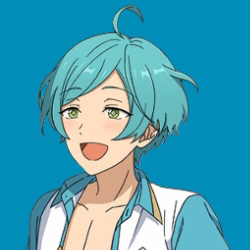 Kanata
Puka, puka... ehe, even 'you' are wishing me a 'happy' birthday, Mr. Frog?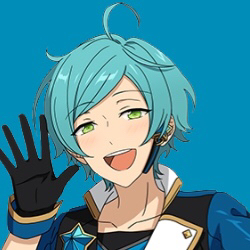 Kanata
Thank you, I 'really' appreciate it~ Both my land and sea 'friends' are wishing 'me' well... everything is in 'harmony'~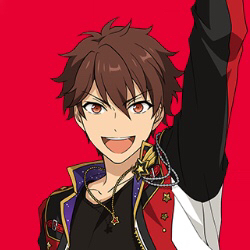 Chiaki
BLUEEEEEEEEEEEEE!!

Chiaki just barely stops short of falling face first into the pond Kanata is lounging in.

He quickly recovers and straightens up, smiling down at Kanata.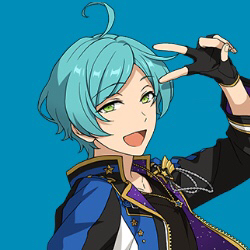 Kanata
Chiaki~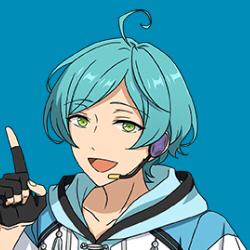 Kanata
Will 'you' join me and puka, puka? It is my 'birthday' wish~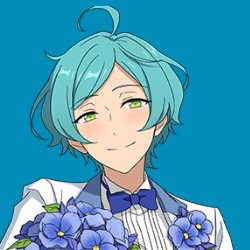 Kanata
That and 'other' things I want 'you' to do.

Kanata giggles and splashes in the water, reaching out to tug on Chiaki's pant leg.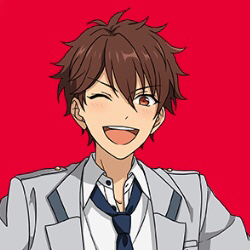 Chiaki
Fuahahaha, only a villain would go against his comrade's wishes on his birthday... ☆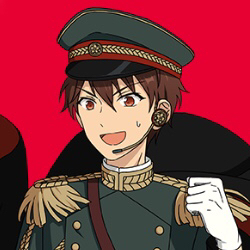 Chiaki
...But wait just a moment. This is a present for you, Kanata!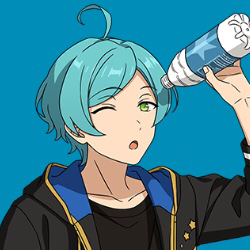 Kanata
...? But I already 'recieved' so many presents 'earlier'...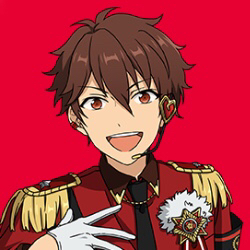 Chiaki
You know what they say! The more the merrier!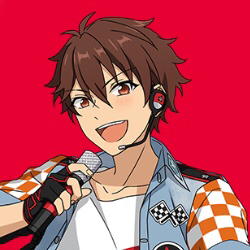 Chiaki
Today is your day, Kanata. Please appreciate this gift, lovingly made by our juniors!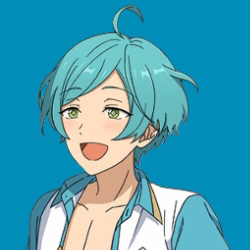 Kanata
The 'children' made this? Together? Ehe... we 'really' did raise them well, Chiaki~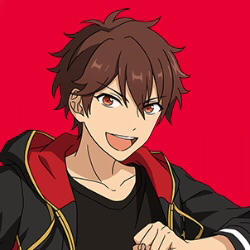 Chiaki
Yep! Not even I know what they made!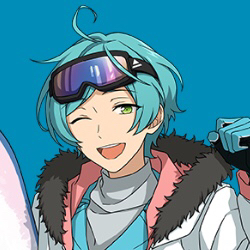 Kanata
Okay, okay~ You are 'leaving' me in suspense, hero~ I want to 'see'~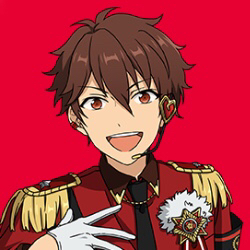 Chiaki
I heard you loud and clear, Kanata!

Chiaki bends down and holds the gift box out to Kanata. Kanata stands up and reaches for it...

...but at the last second, Chiaki moves it out of his range.

Kanata stumbles forward, taking time to steady himself, before he looks up and unleashes a secret Ryuseitai technique-

Ryusei pout.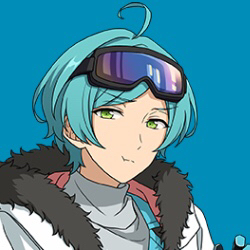 Kanata
Chiakiiii~ You are 'very' cruel~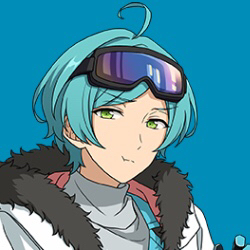 Kanata
Getting my 'hopes' up like that... villain, villain~

Kanata swipes at the giftbox again, and Chiaki pulls it out of his reach again.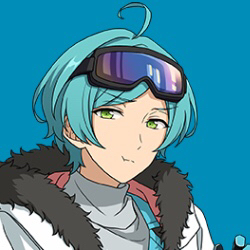 Kanata
Chiaki. Box. Now.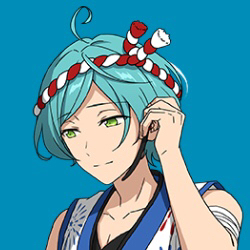 Kanata
...Chiaki?

Chiaki is deep in thought, biting his lip as he grips the gift box close.

Kanata stares at Chiaki in concern, his own hands close to his chest.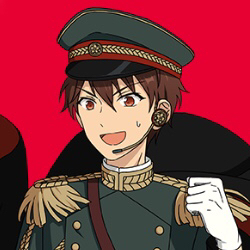 Chiaki
Ah! Kanata! Sorry, I was just thinking... ☆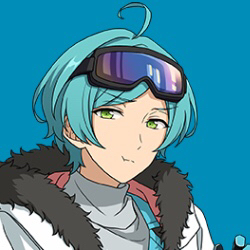 Kanata
Then 'stop' thinking.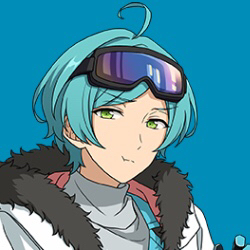 Kanata
Or, at least, share 'your' thoughts with me. When Chiaki holds 'everything' to himself, I get 'mad', you know.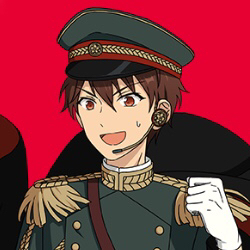 Chiaki
Put your hand down, Blue! Do not use Ryusei Chop on my knees, please!!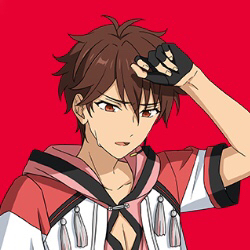 Chiaki
I just thought that... me delivering the kids' hard work is a bit like stealing it, isn't it? Even if they did tell me to do it for them. A hero doesn't steal others' moment in the spotlight.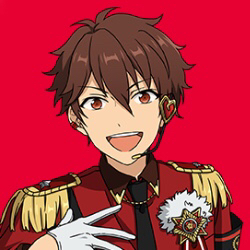 Chiaki
So, to match with the passion they put into this gift...

Chiaki set the gift box aside, kneeling down near the edge of the artificial pond to take Kanata's hands in his.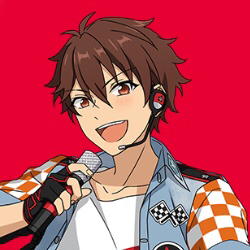 Chiaki
Please listen to my own, passionate words!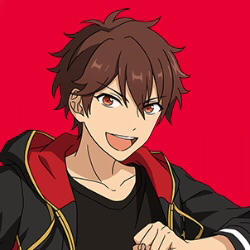 Chiaki
I am Ryusei Red, Morisawa Chiaki, after all!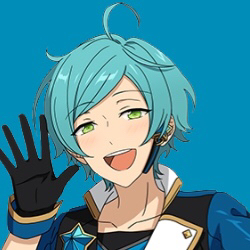 Kanata
...consider me your 'captive' audience, then~

Chiaki clears his throat, staring into Kanata's eyes as he grips his hands tightly.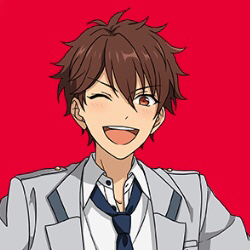 Chiaki
Kanata... thank you from being by my side no matter what! You're my other half, my right hand comrade, my one and only Blue!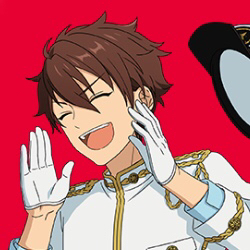 Chiaki
I'll even yell out my gratitude to everyone in ES right now! You know I have the vocals for that... ☆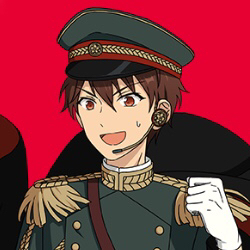 Chiaki
...but these words are just for you, Kanata, so I won't do it.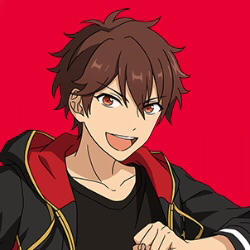 Chiaki
You've seen me at my darkest and my lowest- my bottomless, hopeless pit during my super sentai journey! And with your hands, these very hands-

Chiaki squeezes Kanata's hands tightly, his cheeks flushed firetruck red as he rambles on.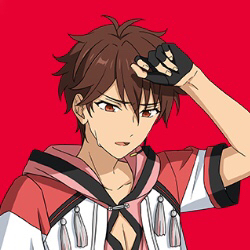 Chiaki
You.. you saved me. And because of that, we were able to recreate Ryuseitai, and have so many, many life-changing experiences together...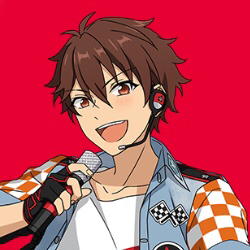 Chiaki
So for that, and so much more... thank you, Kanata. Happy birthday and... I want you to be my partner as long as we can be together.

Kanata stares at Chiaki in silence.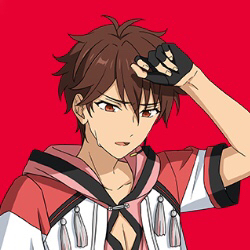 Chiaki
...is that too much to ask, Kanata? I know you're everyone's beloved Kanata, so-

Kanata leaps up from the pond and tackles Chiaki into a hug, wrapping his wet arms around the boy.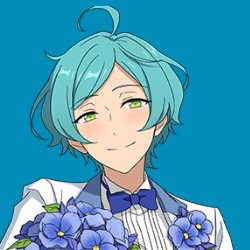 Kanata
Chiaki 'made' my heart race 'so' much I was 'frozen' in place~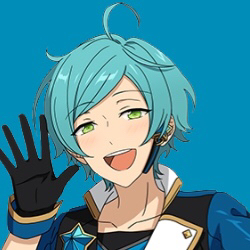 Kanata
But~ I 'was' listening closely to 'everything' you 'said', Chiaki.

Kanata pulls away from the hug and smiles down at Chiaki, poking his cheek playfully.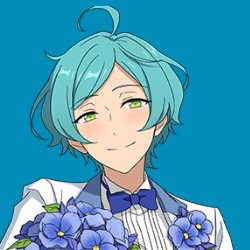 Kanata
I, too, want us to 'stay' partners forever. You are my 'guide' on land 'after' all... hero 𝅘𝅥

Chiaki lights up.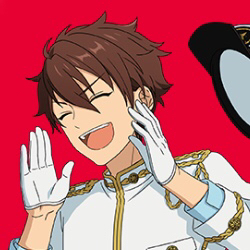 Chiaki
That's great, Kanata! Really, it warms my heart...☆

Chiaki sits up to go for another hug, but pauses in place. He directs Kanata's gaze to the gift box laying nearby, sitting pretty in its unopened state.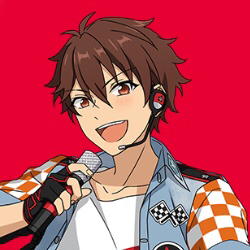 Chiaki
Go on, open it!

Kanata nods, maneuvering off of Chiaki and making his way to the gift box. Chiaki crosses his legs and waits with expectant eyes.

Finally, Kanata unties the ribbon of the giftbox and takes off the lid as well, his eyes widening at what lies inside.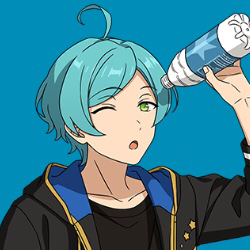 Kanata
A... cake?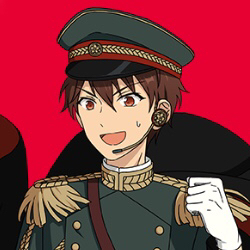 Chiaki
Cake? Made by our children? W-With Nagumo's track record in mind?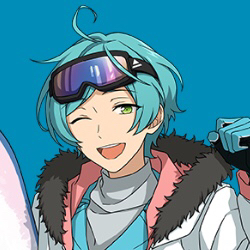 Kanata
That's what it 'looks' to be~

Kanata carefully lifts the, surprisingly not burnt, cake out of the box.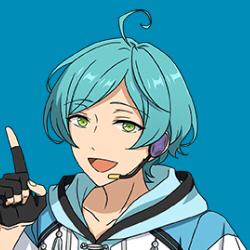 Kanata
Oh- another 'surprise'~ It seems Shinobu left 'one' of his 'kunai' in the box... let's 'dig' in~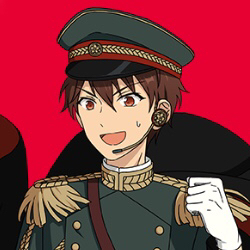 Chiaki
Be careful, Kanata!

Kanata hums as he cuts into the cake for a single slice he and Chiaki could share.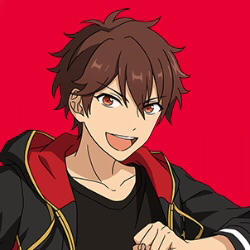 Chiaki
Carrot cake... oh! I see now! Takamine probably used his family's produce for this cake!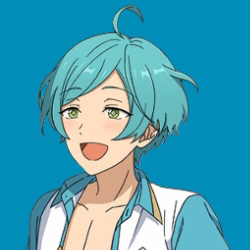 Kanata
Midori's produce, Tetora's improved 'baking' skills, and Shinobu's kunai... this 'really' is a 'gift' from all 'three' of them~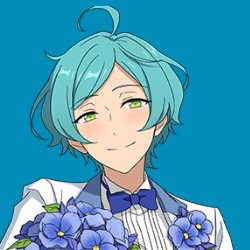 Kanata
Well... we shouldn't 'waste' the 'gift', Chiaki. Say aaah... 𝅘𝅥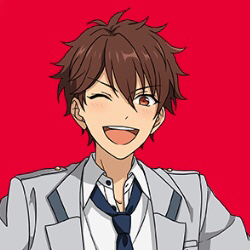 Chiaki
Aaah... ☆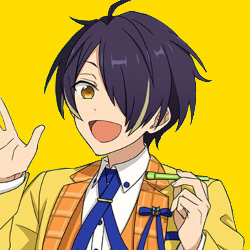 Shinobu
Our plan worked, de gozaru!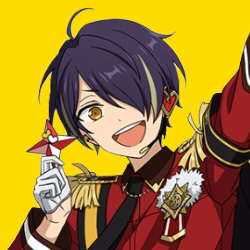 Shinobu
This is a birthday Shinkai-dono will absolutely not forget, nin, nin...☆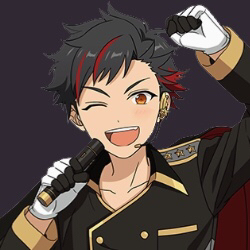 Tetora
HELL YEAH! WE DID IT!

Tetora picks up Shinobu and spins him around, the both of them laughing joyfully. Midori keeps his eyes on his seniors, though.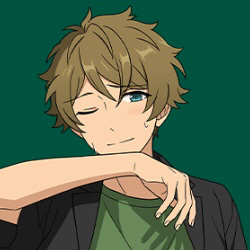 Midori
...Let's give them some privacy, you guys.

Tetora puts down a giggling Shinobu, following Midori's gaze and nodding.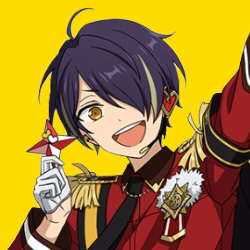 Shinobu
Let's give them our blessing next time we meet, de gozaru!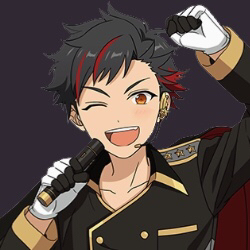 Tetora
Sounds good to me!

The three juniors hurried off, leaving the two seniors alone to feast on the homemade birthday cake.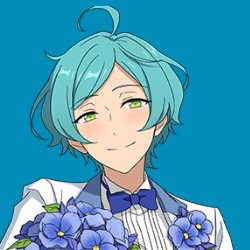 Kanata
...Chiaki, we're 'alone'~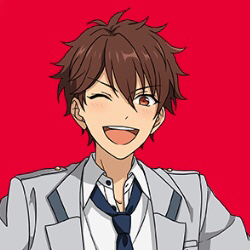 Chiaki
So we are!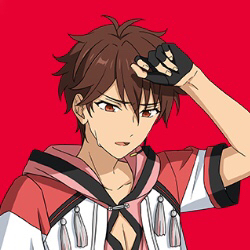 Chiaki
...Kanata, your smile is worrying.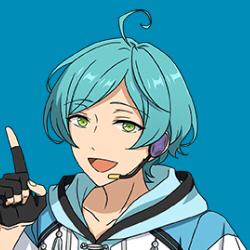 Kanata
Well, I 'did' say earlier there were 'other' things I want you 'to' do on my 'birthday'~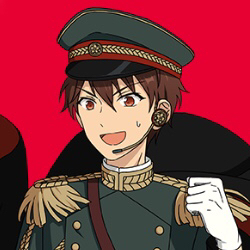 Chiaki
...Just make sure I come back in one piece to my roommates.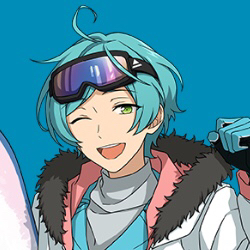 Kanata
No promises, Hero~